Description
 Product Overview
CCI Primers are continuously tested and improved. As a result today's CCI primers are more sensitive, easier to seat and more compatible with progressive and automated loading equipment than ever before. They utilize modern non-corrosive and non-mercuric initiator mixes for the cleanest burn possible.
These are the "bread-and-butter" of reloading, the most commonly called-for primers in reloading recipes. CCI standard primers are remarkably clean-burning, leaving primer pockets cleaner and extending the time between pocket cleaning. That's a huge benefit for progressive reloaders. They are more sensitive and easier to seat than older CCI primers, and engineered for smooth feeding in automated equipment. Available in 1000 or 5000 count boxes.
Specifications
 Product Information
| | |
| --- | --- |
| Quantity | |
| Primer Size | |
Delivery Information
0.845 Pounds – 4.400 Pounds
Yes

Cannot ship via air
Cannot ship via USPS
Cannot ship to PO Box
Must ship to Contiguous US

Yes
SHIPPING DETAILS: WARNING: PRIMERS, SMOKELESS POWDERS, PYRODEX, TRIPLE SEVEN MAY ONLY BE PURCHASED BY ADULTS. CHECK YOUR LOCAL AND STATE LAWS FOR THE LEGALITY OF ORDERING AND POSSESSING THESE PRODUCTS. PRIMERS AND SMOKELESS POWDERS ARE RESTRICTED IN WASHINGTON, DC. RESIDENTS OF CT, MA, NY, AND NJ MUST CHECK LOCAL LAWS FOR RESTRICTIONS BEFORE ORDERING ANY GUNPOWDER PRODUCTS, AMMO, OR PRIMERS.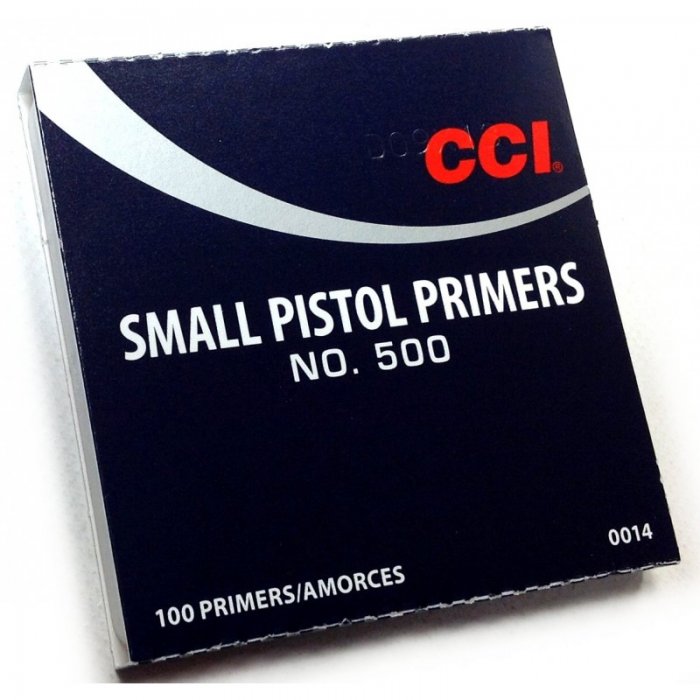 FOR SAFETY REASONS, WE DO NOT ACCEPT RETURNS ON THESE PRODUCTS. DUE TO SPECIAL SHIPPING REQUIREMENTS OF HAZMAT PRODUCTS, FEDEX AND UPS ASSESS A HAZARDOUS MATERIAL FEE PER ORDER OF THESE PRODUCTS. POWDER AND PRIMER SHIPPING (HAZMAT) FEES: APPLIES TO PRIMERS AND POWDER IN THE CATALOG.
HAZMAT RATES ARE PER PACKAGE. YOU MAY RECEIVE UP TO 70 LBS. PER PACKAGE AND MAY COMBINE POWDER AND PRIMERS, BUT POWDER HAS TO BE LIMITED TO NO MORE THAN 32 LBS. PER PACKAGE. POWDER CANNOT BE SHIPPED BY AIR. OUR SALES ASSOCIATES CAN HELP YOU WITH ANY QUESTION