Sale!
Mark 7 Reloading 1050 PRO Autodrive for Dillon 1050 Press 110 Volt
Product Overview
Features
1.5 HP high torque motor
User selectable speeds of up-to 2,400 rounds/hour
Includes 10″ pre-loaded computer tablet – no control boxes
Downloadable software upgrades for life
Completely compatible with Mr. Bulletfeeder and GSI bulletfeeders
User selectable speeds from 900 to 1,800 RPH (rounds per hour)
Digital Clutch has three settings – High/Medium/Low
Index has one setting – Enabled or Disabled
Mounted on same heavy-duty baseplate as other Mark 7 1050 Autodrives
All other features are identical to other Mark 7 1050 Autodrives
Loading press and bullet feeder not included
The Mark 7 goal is to duplicate the action of an experienced hand operator, but with the convenience and precision of very fine digital control.  To do that Mark 7 developed a computer/electronics package that talks to the drive's motor and monitors its performance in real time.  It is critical that the computer knows exactly where the tool head is at all times.
Deploying that technology provides Mark 7 users with controls not just to set clutch torque and nominal cycle speed, but also to vary press speed and dwell during different phases of the press stroke.  One example of when this degree of control is valuable is the ability to adjust shellplate rotation speed when loading high powder fill rounds or ones with tippy bullets.  Another example is the ability to increase bottom dwell when trimming brass.  These are just some of the engineering features that differentiate the Mark 7 Autodrive and ones that no other manufacturer can claim.  It is not current sensing, but torque sensing.
Just as an experienced hand operator can feel when there's an impending press problem and potentially catch it before a serious powder spill, case or primer jam, there's an array of Mark 7 accessories to address similar issues. So what does all this technology do for throughput?  It enables a Mark 7 user to keep their press running smoothly for the entire reloading session; and that's the true measure of Rounds Per Hour – the true yield of your efforts.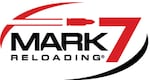 Made In United States of America
Description
Specifications
Product Information
| | |
| --- | --- |
| Country of Origin | |
Delivery Information
| | |
| --- | --- |
| | 55 Pounds |